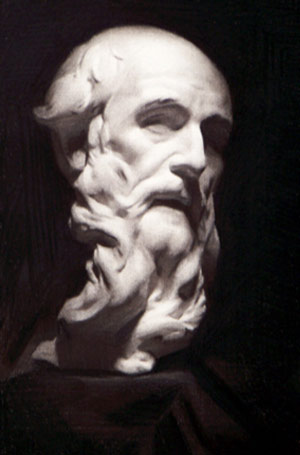 St. Jerome, charcoal cast drawing on white paper
Richard Seaman, 1st year student

Painting is today widely regarded as an intuitive process. Art instruction, devoid of absolutes and stripped of its foundational base, often lacks direction, clarity, and purpose.
As a school of traditional art, we offer a highly structured program adhering to long-tested methods of analyzing and interpreting nature. Our step-by-step curriculum is rooted in 19th century practices of French academic artists whose methods we employ and whose lineage we are honored to share. As alumni of the Florence Academy of Art, we strive to preserve and pass on this heritage.
We believe that one can only paint as well as one can draw. Good draftsmanship has long been regarded as the foundation of art and this is where our teaching begins. The acquisition of a solid working system and the development of good drawing habits strengthen and inform the entire process of painting. As each classically trained musician must begin by learning the scales, so must each competent artist begin by absorbing the basic principles of drawing from life.
'The drawing is three fourths and a half of what constitutes painting. If I had to put a sign over my door [to the atelier], I would write: School of drawing, and I'm certain that I would produce painters.'
- J. A. D. Ingres (1780-1867)
At Ravenswood Atelier, we strive to encourage the most ambitious attempts at naturalism. We see a need to bridge the gap between the marvels of late 19th century masters and the realism of the present day. The sole aim and focus of our training is to establish the foundation necessary for technical excellence. We aspire to meet the highest standards of draftsmanship, daunting though that task may be. It is our hope that this return to discipline gleaned from careful study of the old masters, sound instruction, and years of practical application will one day expand the vaults of masterpieces in art history.
In the words of Michaelangelo:
"The greater danger for most of us lies not in setting our aim too high and falling short; but in setting our aim too low, and achieving our mark."